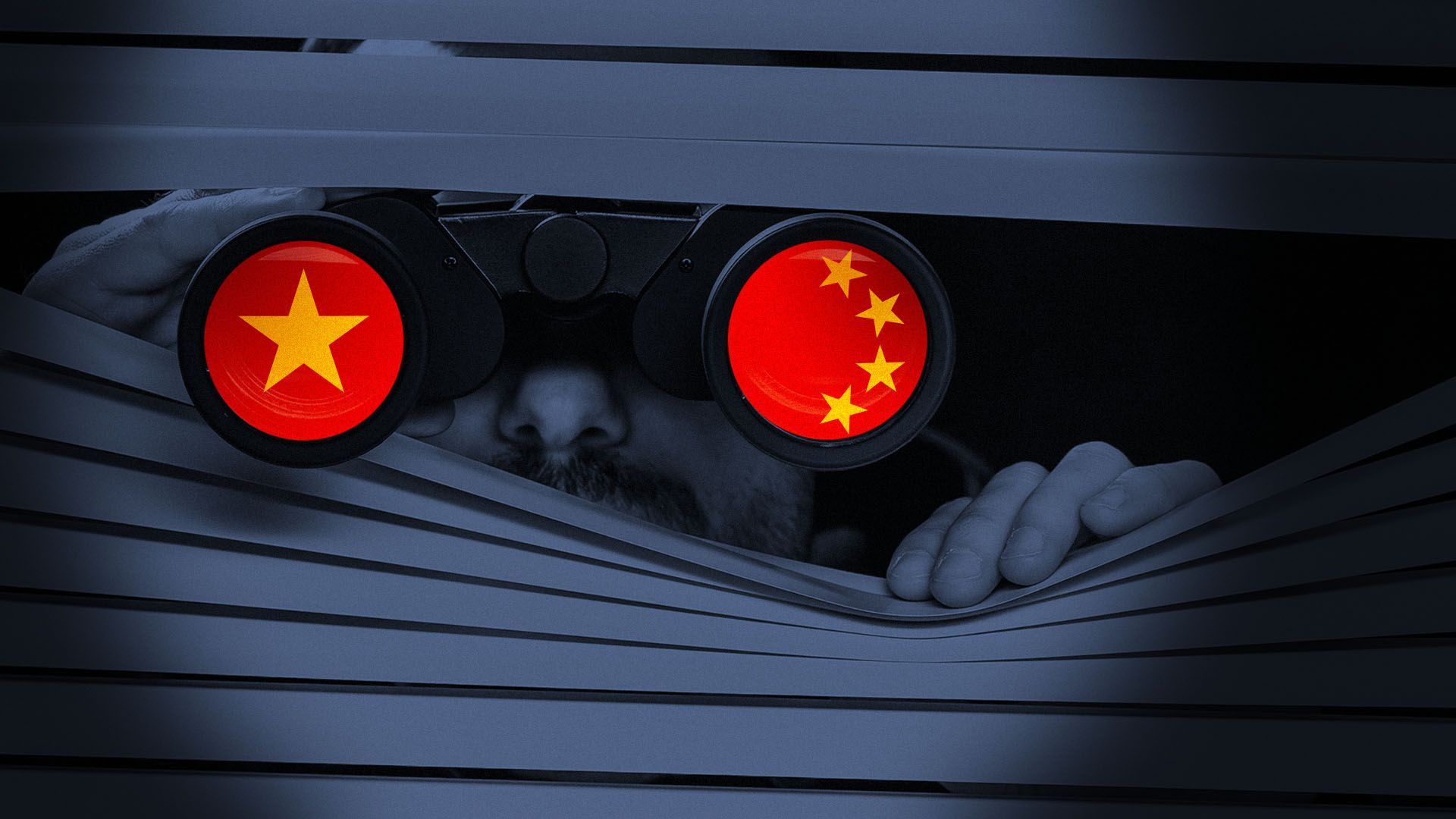 Illustration: Sarah Grillo/Axios
A Chinese surveillance firm has enlisted the help of a former senior U.S. official at the Treasury Department's sanctions program, just weeks after the company was reported to have ties to the Chinese military, records show.
Why it matters: The company, Hikvision, has disputed its place on a Pentagon blacklist of companies with Chinese military ties. The new hire by its D.C. lobbying firm is just the latest aimed at rolling back U.S. government measures that threaten to deal a body blow to its business.
What's new: The lobbying firm, Mercury Public Affairs, announced last month that it had hired Peter Kucik, a former senior sanctions policy advisor at the Treasury's Office of Foreign Assets Control. Last week, Mercury added Kucik to its Hikvision account.
Kucik's hiring was announced just days after the Wall Street Journal reported on new research on Hikvision's ties to the Chinese military.
The company disputed the reporting, saying it had never "conducted research and development work for Chinese military applications," and that any equipment sold to China's army was manufactured for "dual-use" military and commercial purposes.
The WSJ report was based on findings by the surveillance technology research service IPVM, which also flagged Kucik's hiring to Axios.
Previous reporting has linked Hikvision to the surveillance of Uyghur Muslims in mosques and detention camps in the Chinese province of Xinjiang. The company has denied "any inappropriate actions in Xinjiang."
A Hikvision spokesperson declined to comment on Kucik's work for the company. Mercury did not immediately respond to a request for comment.
Background: Last summer, the Defense Department added Hikvision to a list of companies it deemed were "owned or controlled" by the Chinese military. The designation didn't carry penalties but was seen as a potential precursor to U.S. sanctions.
Last month, President Biden included Hikvision among dozens of companies barred from U.S. investment over alleged Chinese military ties.
In 2019, the Commerce Department also restricted Hikvision's ability to do business with American companies.
Between the lines: Kucik is just the latest Mercury addition to its Hikvision team.
Late last month it brought on former Rep. Toby Moffett, a Connecticut Democrat who advised President Joe Biden's 2008 White House bid.
Earlier this year, Mercury added former California Democratic Sen. Barbara Boxer to the Hikvision account. She quickly stepped back from that work, citing public criticism.
Source: Read Full Article