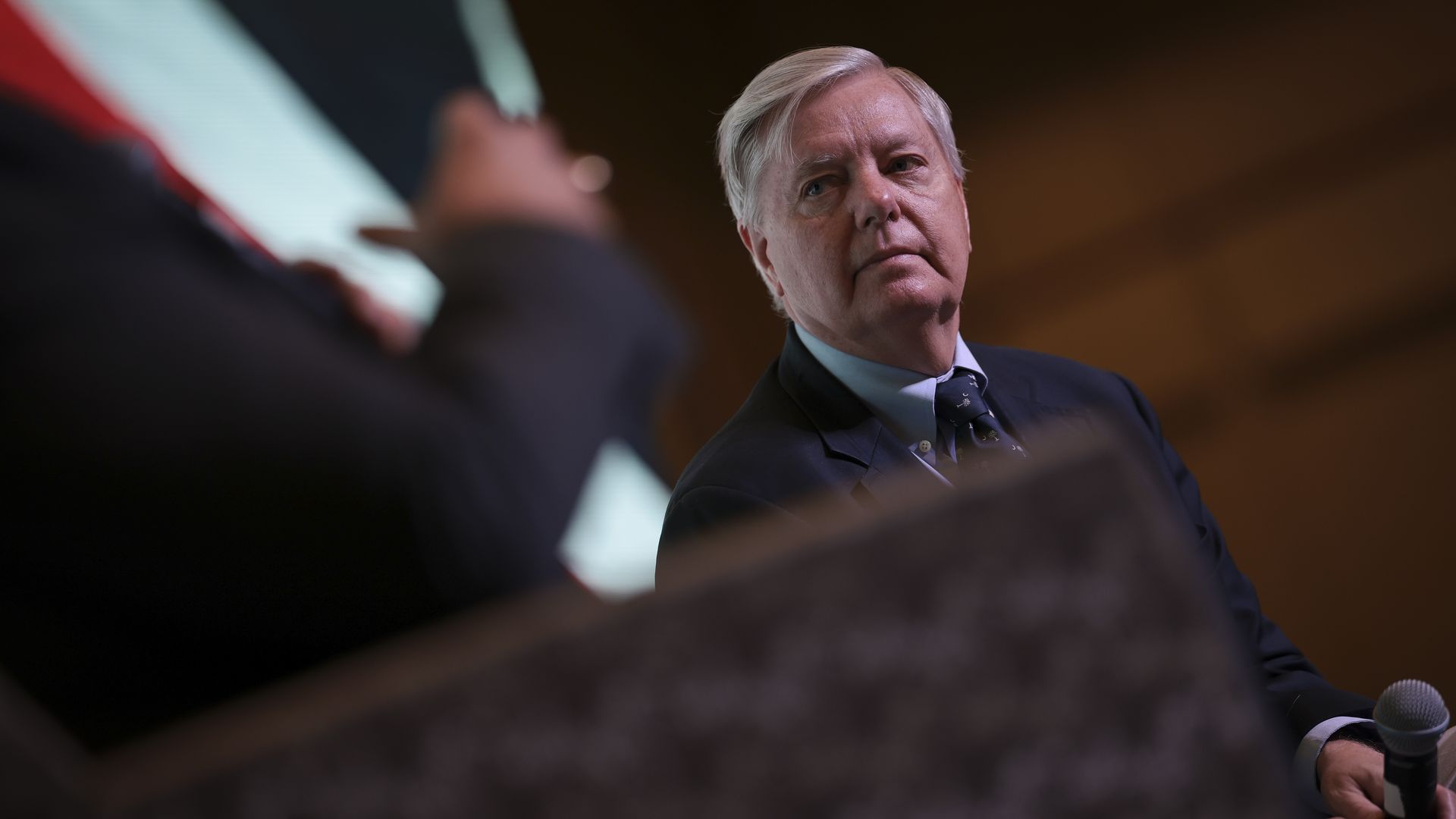 Sen. Lindsey Graham. Photo: Win McNamee/Getty Images.
The Senate Ethics Committee admonished Sen. Lindsey Graham (R-S.C.) on Thursday for using interviews at the Capitol to solicit campaign donations.
Why it matters: It's an uncommon move by the panel, which is less active than its House counterpart. The last senator to receive an admonishment was Sen. Bob Menendez (D-N.J.) in 2018.
The last one before that was former Sen. Tom Coburn (R-Okla.) in 2012. Fewer than a dozen senators have been admonished since 2002.
Driving the news: The letter from Chair Chris Coons (D-Del.) and Vice Chair James Lankford (R-Okla.) cites a Nov. 30, 2022 Fox News appearance Graham made from the Russell Senate Office Building.
In the interview, Graham "directly solicited campaign contributions" for Georgia Senate candidate Herschel Walker five separate times, according to the letter.
Coons and Lankford wrote that donation requests represent a "repeat violation, citing an Oct. 14, 2020 hallway interview at another Senate office building in which Graham solicited donations to his own reelection campaign.
That matter was investigated by the Ethics Committee but dismissed in March, 2021, according to the panel leaders.
What they're saying: "The public must feel confident that Members use public resources only for official actions in the best interests of the United States, not for partisan political activity," Coons and Lankford wrote.
"Your actions failed to uphold that standard, resulting in harm to the public trust and confidence in the United States Senate. You are hereby admonished."
Yes, but: There isn't much drama surrounding the admonishment aside from it being historically unusual.
It is not accompanied by any material penalty, and Graham self-reported the conduct to the committee, according to the letter.
The other side: "It was a mistake," Graham said in a statement.
"I take responsibility. I will try to do better in the future."
Source: Read Full Article