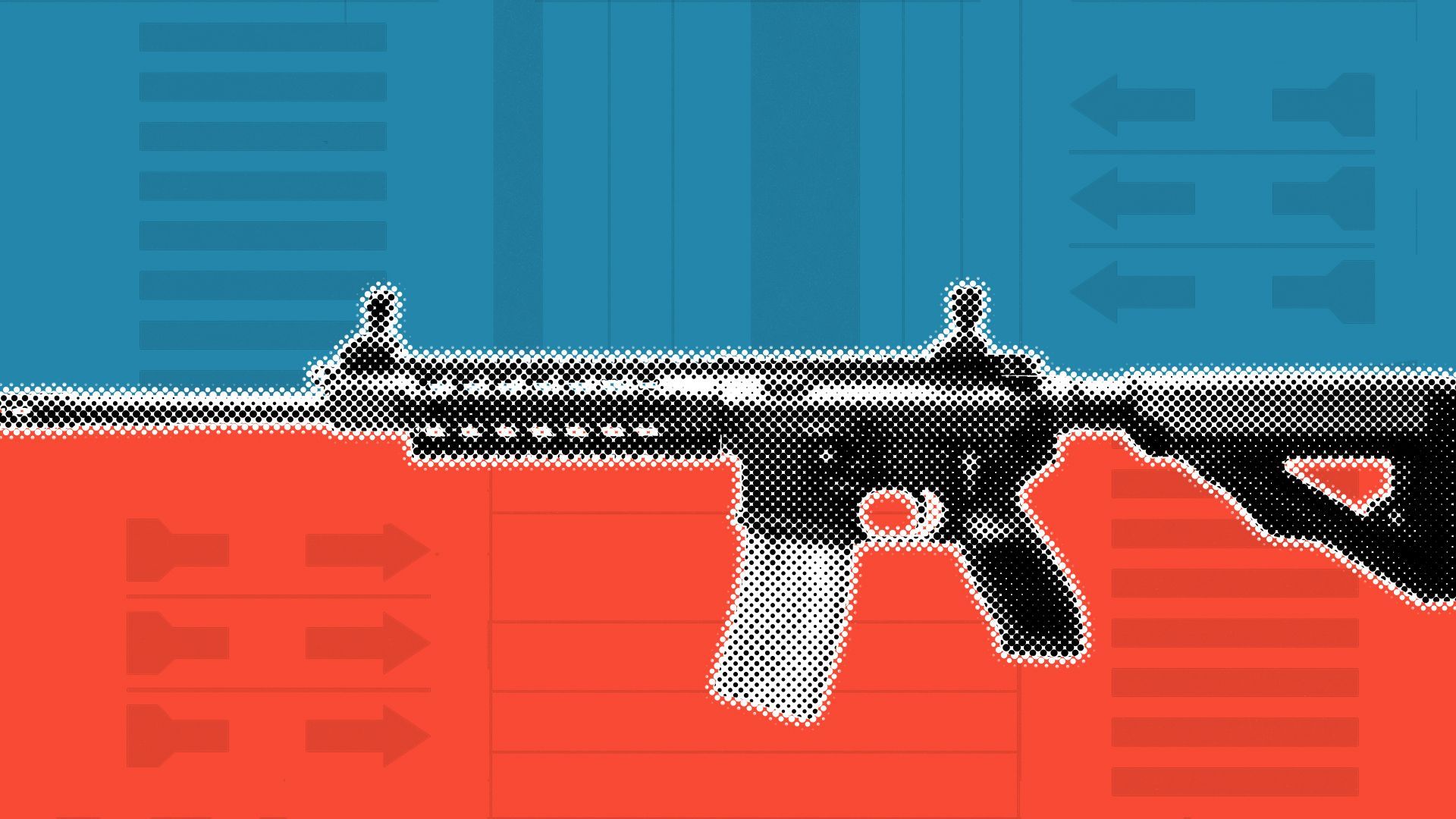 Illustration: Brendan Lynch/Axios
Washington is set to become the 10th state to ban the sale of AR-15s and other guns it classifies as assault weapons.
Driving the news: The state House passed the assault weapons sales ban 56-42 on Wednesday, sending it to Gov. Jay Inslee, who has already said he'll sign the bill into law.
The bill previously passed both legislative chambers, but lawmakers then had to agree on amendments.
Why it matters:Public officials nationwide have faced increasing calls to crack down on semi-automatic, military-style firearms like AR-15s, which have been linked to some of the deadliest mass shootings in the the U.S. in the past decade.
An AR-15 was used in last month's deadly school shooting in Nashville, Tennessee, as well as last year's school shooting in Uvalde, Texas, that killed 19 children and two teachers.
The shooter who killed three people and wounded another at a 2016 house party in Mukilteo, in Snohomish County, also used an AR-15.
Details: The bill defines assault weapons to include more than 50 named types of military-style firearms, plus others with features such as telescopic scopes or extra hand grips.
The bill won't stop people from owning the weapons if they already have them.
But it will ban new sales and distribution of the firearms, as well as manufacturing and importing them.
Exceptions will be made for police agencies and branches of the military.
What they're saying: "I don't want to see another life taken in a mass shooting," state Sen. Patty Kuderer (D-Bellevue) said in a recent Senate floor debate. She argued the bill "will save lives."
The other side: Republican lawmakers resoundingly opposed the ban, arguing it wouldn't address the underlying causes of gun violence, including people experiencing mental health crises.
They also said the restrictions would infringe on people's constitutional gun ownership rights.
"I will not vote to take away my family's right to keep and bear arms," state Sen. Mark Schoesler (R-Ritzville) said during a floor speech.
The big picture: Washington already has stricter gun laws than most states, including a voter-approved ban on people under 21 buying assault rifles.
Last year, the Legislature passed a ban on sales of high-capacity firearm magazines that hold more than 10 rounds.
Plus: Besides this year's assault weapons ban, Washington lawmakers also passed a bill that will impose a new 10-day waiting period on firearm purchases, as well as require people to complete firearms safety training before they can buy a gun.
What's next: Inslee told MSNBC last week that he plans to sign the assault weapons ban into law "in the next couple of weeks."
The ban is set to take effect immediately once it is signed by the governor.
Go deeper: Many mass shooters acquire guns legally
Source: Read Full Article