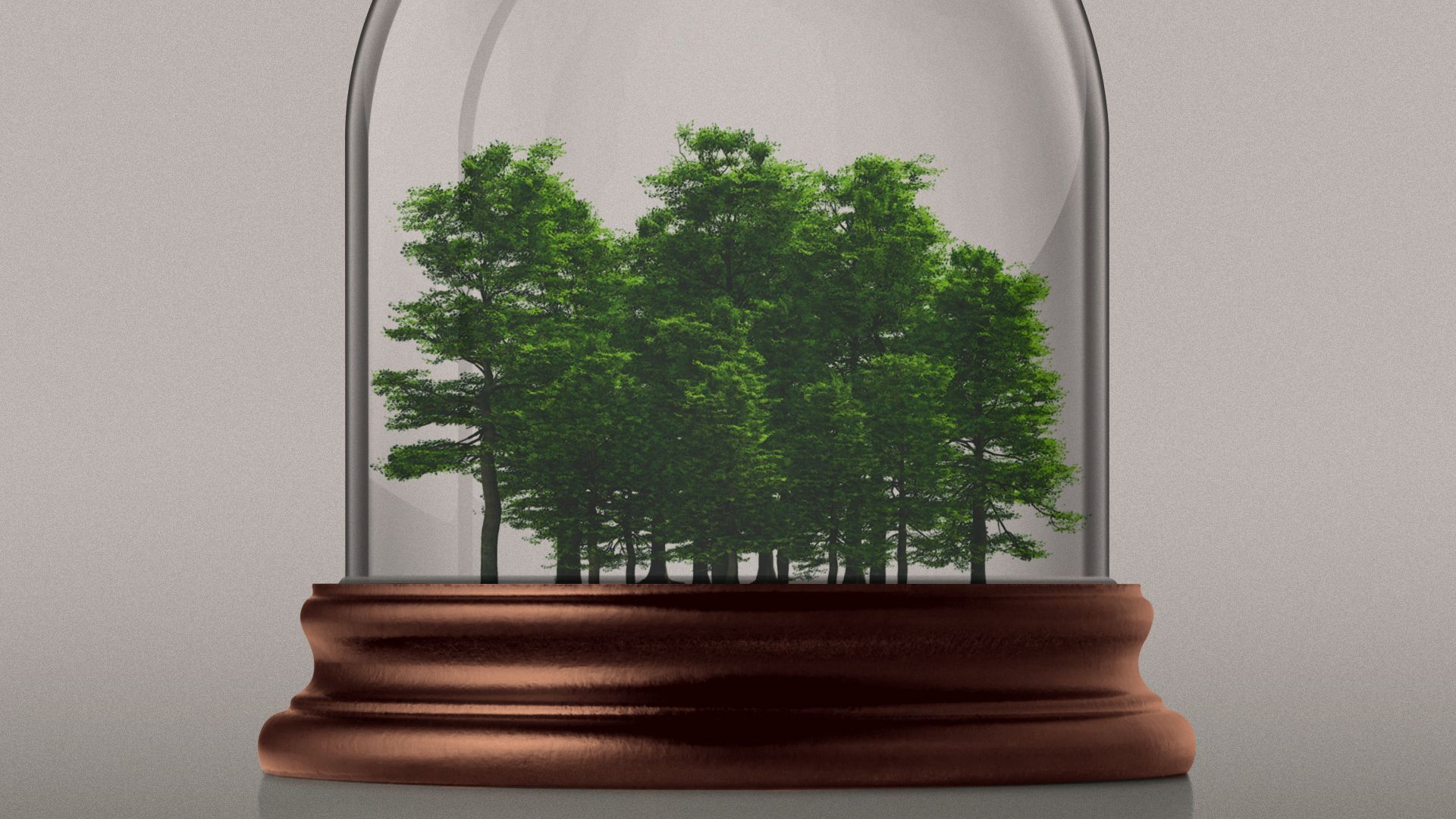 Illustration: Gabriella Turrisi/Axios
A new, first-of-its-kind federal census of older trees on federal lands may presage a battle over whether and how to expand forest protections, specifically as a climate policy, Andrew writes.
Driving the news: The United States contains more than 100 million acres of old-growth and mature forests on government lands, according to the tree census conducted by the U.S. Forest Service and Bureau of Land Management and released Thursday.
By the numbers: The report found that old-growth forest makes up 18%, and mature forest another 45%, of all forested land under these two agencies' jurisdiction.
Zoom out: The tree count was directed by President Biden via an Executive Order issued last year.
Now that old-growth and mature trees have been counted, what comes next has environmentalists and climate scientists both interested and concerned.
The report states that the results will be used to "allow consideration of appropriate climate-informed forest management," but does not say exactly what this means.
Today, old-growth and mature trees are subject to logging on certain federal lands. Moves to shield many more older trees from harvesting would encounter stiff resistance from the timber industry.
What they're saying: "America has no shortage of public forestland, most of which is lightly managed, if it's managed at all. Today's inventory shows we're not running out of mature trees," said Bill Imbergamo, executive director of the Federal Forest Resource Coalition, a timber industry group, in a statement.
Between the lines: According to multiple studies, older trees continue to take in large amounts of carbon, whereas forests that are logged release significant amounts of carbon dioxide back into the atmosphere. That warms the planet.
The U.N. Intergovernmental Panel on Climate Change, for example, found that protecting existing forests is the "highest priority" for reducing greenhouse gas emissions, rather than relying more on post-logging land restoration.
William Moomaw, a professor emeritus at Tufts University's Fletcher School, said longstanding federal policies have favored removing older forests and replacing them with younger, faster-growing trees.
The problem, he told Axios in an interview, is that the carbon math doesn't add up. The younger trees won't accumulate as much CO2 as is lost by the felling of the older, more carbon-rich trees.
"It is critically important that these identified forests on Federal lands are protected and not over-managed as an excuse to harvest more trees," Moomaw said via email.
What's next: The Forest Service on Thursday requested public comments ahead of proposed rule-making on how the agency should manage forests, with climate resilience in mind.
Source: Read Full Article